Fish Pie with white sauce
Posted on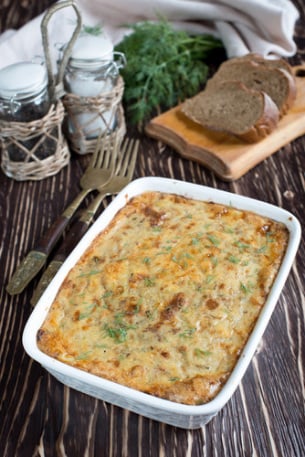 Serves: 4
Shopping list - choose organic where possible
Ingredients
250g Salmon
250g white fish (cod or haddock)
200g prawns (I use the king prawns, smaller prawns can also be used)
1 leek
1 carrot
1 red chili (optional)
250ml milk (I use almond milk)
2 tsps of cornflour
75g cheese (optional)
A handful of chopped fresh parsley
For the mash:
600g white potatoes.
400g sweet potatoes.
Method
Peel the white potatoes and put in large saucepan, cover with water and bring to the boil, then add the sweet potatoes to the pan, cook until soft enough to mash.
Wash and slice the leek.
In a large saucepan sautee the leeks in a small amount of coconut oil or butter for a few minutes.
Add in the salmon and white fish to leeks and cover with the almond milk, simmer on a medium heat for 10-15 mins.
Grate the carrot into the an oven-proof dish you are going to cook the fish pie in, chop the red chili finely.
Drain the milk from the saucepan into a jug.
Flake the fish into the oven proof dish along with the leeks and grated carrot, mix together well.
Add 200ml of the almond milk into a small saucepan over a medium heat and add in 2 heaped teaspoons of cornflour, stir well until thickened.
Grate the cheese into the sauce and pour over the fish.
Mash the potatoes and spread over the top.
Cook for 40-45 mins at 180°C.
Serve with some 2-3 steamed veg – broccoli/beans/kale/spinach/peas/carrots.